It's hard to believe that only a few weeks ago, we were dropping kids off at school, exercising among throngs in busy gyms, and jostling with crowds on commuter trains en route to work. The spread of COVID-19 has dramatically changed life as we know it, as nonessential activities have been banned and most of us have been ordered to stay home. For now, shared meals in favorite eateries, backyard birthday parties for kids and Sunday services at church are on hold.
Coronavirus & the Psychological Cost
Mental health experts know only too well that the strident measures currently in place to slow the spread of this highly contagious disease has very real psychological costs. Long-term social distancing means that feelings of isolation can become overwhelming. What's more, those of us with anxiety are finding our stress levels burgeoning. The carefully calibrated routines we have established and maintained over time, which give us a sense of control that in turn helps us manage our anxiety, are suddenly disrupted – indefinitely — and we have no power to change this. This sense of powerlessness can send our anxiety levels soaring.
Added to this, of course, is the loss of income that many of us are experiencing, the worry about loved ones who may be more susceptible to the disease, and forced togetherness with family members who are going through their own struggles during this time, and the resulting brew of uncertainty and anxiety can become debilitating.
Tips to Limit Corona Virus Related Anxiety
Experts advise us to keep our daily routines going as much as possible – or establishing new ones – while still following the social distancing rules presently in place. Other tips include:
Limit COVID-19-related news – you can't turn on the television, open a newspaper or check your favorite twitter feed without the constant barrage of coronavirus news blaring at you. Sure, we should stay educated and apprised of what is happening, but nonstop pandemic news is upsetting without being helpful. Try to limit your news consumption.
Practice self-care – try to nourish and care for your body as well as your loved ones during this time: eat wholesome foods and exercise at home. Take walks; not only is the exercise good for you, but fresh air invigorates, and seeing the hopeful signs of spring in nature is uplifting. You can wave to your neighbors at a healthy distance for social interaction and witness all the dogs formerly confined to backyards enjoying exercise with their working-from-home owners. And sun exposure allows our skin to manufacture vitamin D, which can boost your mood and even strengthen your immune system.
Revisit favorite books – if you're like me, you've got bookshelves lined with former favorites, and you've probably forgotten much of what you've read. Immerse yourself in a good read; for bonus points, once you've finished the book, drop it off at a local Little Free Library (after disinfecting, of course). Libraries may be physically closed, but you can still check out kindle readers.
Stay connected with friends and family – call, text, post on FaceBook – however you normally interact with each other, now's the time, to boost that connection, albeit remotely.
Help others if you can – working together as a community can help create solidarity and benefit both those receiving assistance and those giving it. In our neighborhood, some wonderful folks have

started a birthday club for young children

celebrating their milestones; people walk (distanced, of course) and

drive by the celebrant's house at an appointed time

, honking, waving and shouting birthday greetings. Others with chickens are giving away eggs; still, others are donating board games and art supplies to families with children. Is there something you can do to help?
Find assistance if you need it! Resources are readily available, even during shelter-in-place situations. NAMI CCNS has online support groups that can easily be accessed by computer or phone; please visit https://namiccns.org/classes-events/ for more information.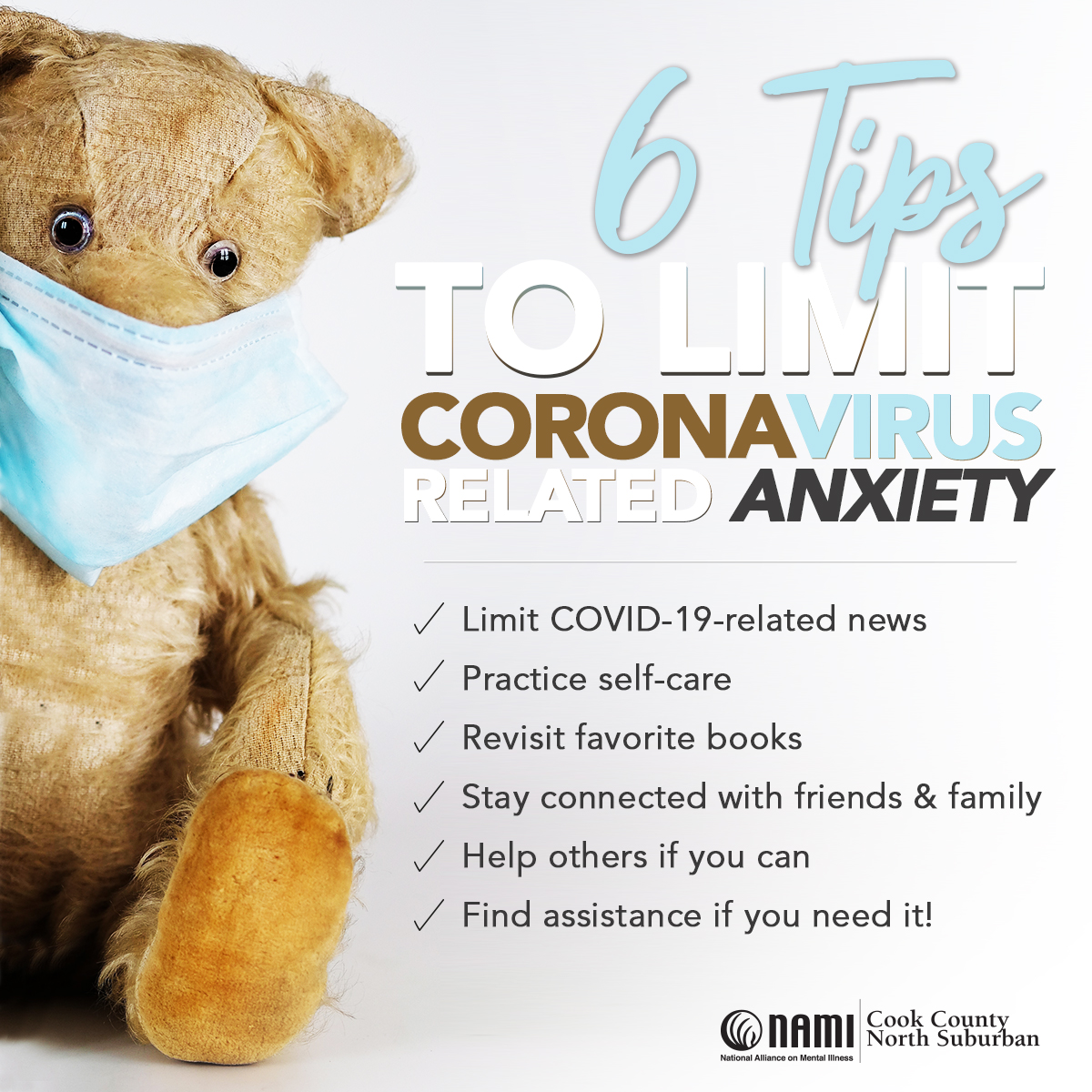 Let's be kind to ourselves during these uncertain times, knowing that this, too, shall pass – and let's be kind to each other, knowing that we are all in the midst of our own personal journeys as well.